Innovation, Value & Service since 1958
On Line Freight & Shipping
For continental USA customers, items that must be sent by LTL are designated by the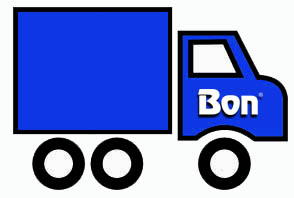 or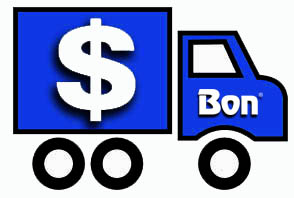 symbol shown for the product. Products are shipped F.O.B. Origin, with the freight costs and handling charges prepaid by Bon Tool Co. and charged to the customer.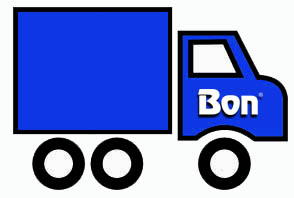 = Must ship common carrier - qualifies toward prepaid freight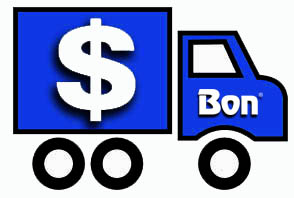 = Must ship common carrier - does not qualify toward prepaid freight
For shipments to a single destination in the continental USA, orders totaling $900 net or more of qualifying products, items will be shipped freight prepaid. If your order includes unqualified products, you are responsible for the additional freight costs and will be charged for freight accordingly.
For shipments to a single destination in AK, HI, PR or Canada, orders totaling $3,000 net or more of qualifying items are freight prepaid (excluding duties and taxes). If your order includes unqualified products, you are responsible for the additional freight costs and will be charged for freight accordingly.
International orders will be shipped F.O.B. Origin, and freight quotes may be prepared in advance. See more information in our Export Services section (see below).
Bon Tool Co. will determine the routing of all packages. Special routing requests may cause additional shipping charges for the customer.
Export Services:
Order acceptance for international orders; the customer acknowledges that no order shall be deemed accepted unless and until it is verified and accepted by Bon Tool Co. at a continental USA facility. The customer further consents that submission of the order shall subject the customer to the jurisdiction of the federal courts of the United States and the Commonwealth of Pennsylvania.
Bon Tool Co. has been in business since 1958, offering a full line of tools for the professional building trades. The items shown on this website are stocked for prompt shipment. Bon Tool Co. has the expertise to efficiently package and ship your order with all the necessary export documentation. Orders may be placed by mail, web, phone, fax or email. Payments for international orders should be made in US funds prior to delivery via credit card, wire transfer, or other specified method. A pro forma invoice showing CIF can be prepared upon request. For additional details, contact our international sales department by phone or email to sales@bontool.com.
Français
Services d'exportation
Bon Tool Co. a été dans les affaires depuis 1958, offre une ligne pleine d'outils pour les commerces de bâtiment professionnels. Les articles montrés sure ce site sont stocké pour la livraison immédiate. Bon Tool Co. efficacement les empaquette et expédie votre ordre avec toute la documentation d'exportation nécessaire. Les ordres peuvent être placés par le courrier, le téléphone, FAX ou le courrier électronique. (Le paiement pour les ordres internationaux devrait être effectues dans l'argent d'Etats-Unis avant la livraison, par carte de crédit, le transfert de fil, ou l'autre méthode specifée). Une fracture pro forma montrant CIF peut être préparée sur demande. Pour les autres détails, contactez notre service de ventes internationales par le téléphone ou
sales@bontool.com.

ESPAÑOL
Servicios de la exportación
Bon Tool Co. ha estado en el negocio desde que 1958, ofreciendo una linea repleta de herrameienta para el professional los comercios que construyen. Los articulos mostrados en este sitio se stocked para el embarque immediato. Bon Tool Co. la percia a eficientemente paquete ya embarca su orden con toda la documentacion necesaria de loa exportacion. Las ordenes pueden ser colocadas por el correo, el tel el fax o el correo e. (El pago para ordenes internacionales se debe hacer en la moneda de Estados Unidos antes de entrega o por tarjeta dito, la transferencia por cable u otro todo especificado.) Un en pro de CIF de mostrar de factura de fomra se puede preparar sobre el pedido. Para otro deatails, avise nuestro departamento internacional de vantas en sales@bontool.com.

DEUTSCH
Internationale Bestellungen
Bon Tool Co. ist in Geschäft seit 1958 gewesen, und versorgt eine volle Linie der Werkzeuge für die Fachmann bauende Handel. Die auf dieser Web site dargestellten Werkzeuge stehen zu unmittelbaren Auslieferung bereit. Wir haben langjährige Erfahrung im Liefergeschäft – national und international. BON TOOL trägt die Verantwortung für Verpackung und Versendung der Bestellung mit allen nötigen Export Dokumenten. Bestellungen können per Brief, per Web, Telefon, Fax oder e-mail aufgegeben werden. Zahlungen für internationale Bestellungen müssen in US Dollar vor Erhalt der Ware per Kreditkarte, Wire Transfer oder anderen akzeptierten Zahlungsmethoden erfolgen. Eine Proforma Invoice mit CIF kann Ihnen auf Anfrage zugesandt werden. Bei zusätzlichen Fragen kontaktieren Sie bitte unser internationales Verkaufsbüro per Telefon oder e-mail unter:sales@bontool.com.