Innovation, Value & Service since 1958
CONCRETE STAIN - DESERT SAND - 1 QT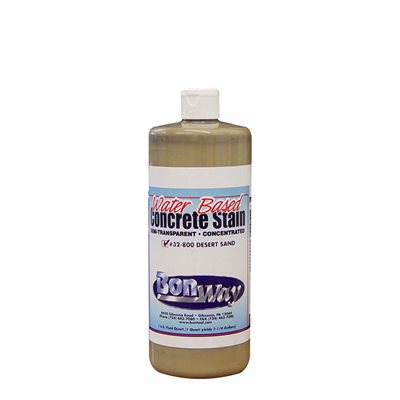 Press and move to zoom.
Mouse over image to zoom.
CONCRETE STAIN - DESERT SAND - 1 QT
Available in 5 transparent and 6 semi-transparent colors
Sold in 1 quart or 1 gallon containers
1 quart yields 11/4 gallon - 250 sq ft coverage
1 gallon yields 5 gallons - 1000 sq ft coverage
Used for concrete or other porous surfaces
Interior or exterior application
Weather and UV light resistant
Requires a top coat, compatible with solvent and water based sealers
Fast dry time, low odor
Mixes with distilled, deionized or reverse osmosis water in a 4:1 ratio
Stain adheres to a variety of surfaces including but not limited to,interior and exterior concrete, brick, plaster and natural stone
Color can be varied by altering dilution rate
Use gel cleaner
Applications:
Applied with an airbrush, pump sprayer, sea sponge, or traditional bristlebrush
Can be sealed with epoxies, urethanes, solvent or water based sealers
Colors shown in the catalog and www.bontool.com are indicative of the final color, after a coat of sealer has been applied. Many factors outside of our control will affect the final outcome of your project. Please consider mix ratio, hydration, cement, aggregate, cure time and other factors upon review of the final project.

You may also be interested in