Innovation, Value & Service since 1958
>

Become a Bon distributor
Bon Tool Distributor Information
If you are looking for a tool distributor near you that sells Bon Tool products call 800-444-7060.
About Our Company
Show and sell Bon Tool products with the confidence that you are offering your customers high quality, professional grade tools. Celebrating almost 60 years in business, Bon Tool Co. has grown to a leading manufacturer and trusted source for the building trades. Learn about Bon Tool's history.
Meet Your Local Salesperson
Our sales team includes regional sales representatives that service distributor accounts across the USA, Canada and Mexico. A Bon Tool rep can help open your Bon Tool account and help to find the right selection of tools for your store. Contact Bon Tool Co. customer service at 800-444-7060 or sales@bontool.com to arrange your meeting.
Interested in Becoming a Bon tool Distributor?
We are always looking for qualified distributors to join our team. For more information, call our customer service department at 800-444-7060 or complete our Distributor Resale Application.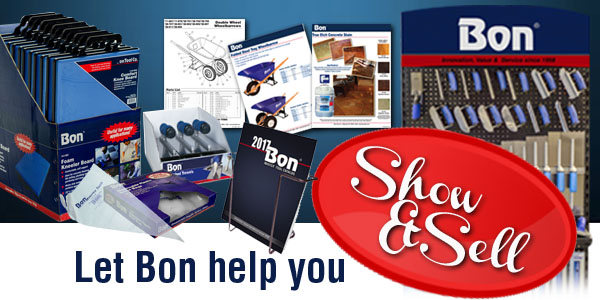 Experience the Bon Distributor Advantage!
Join our team of distributors and experience the advantage of selling Bon. From store signs to products with your store name, we are here to help you SELL!